Salmon
sashimi recipe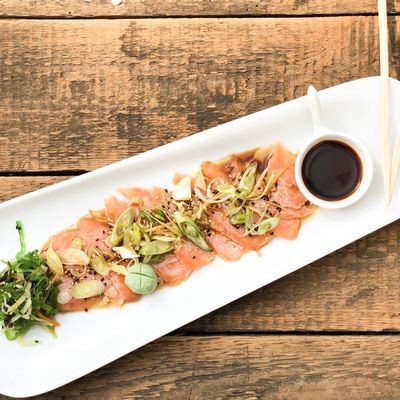 01/27/2020
Sashimi is a sliced raw fish originally from Japanese. You can find the salmon sashimi on our standard menu at this moment and we have recipe for you.
Ingredients
320g salmon
50ml sesame oil
20g ginger
1 piece of spring onion
5g sesame seads
20ml soy sauce, wasabi, wakame salad (according to your taste)

Method
Cut the thin slices of salmon through the fibres and place them on a plate. Heat sesame oil until it will smoke. In the meantime cut the ginger and spring onion into thin slices and place them on the salmon. Sprinkle with sesame seeds. Spill the boiling oil (it begins to smoke intensively) on the fish,.The surface of fish will close. Finally, pour the soy sauce, add wasabi and wakame salad.
You can also use tuna instead of salmon.

Whether you try the recipe, feel free to be in touch with us and show us photos! You can find us on social media Instagram (https://www.instagram.com/burgerbar/)
and on Facebook (https://www.facebook.com/BB.Burger.Bar/).

Bon Apetit!