Chocolate
bread pudding recipe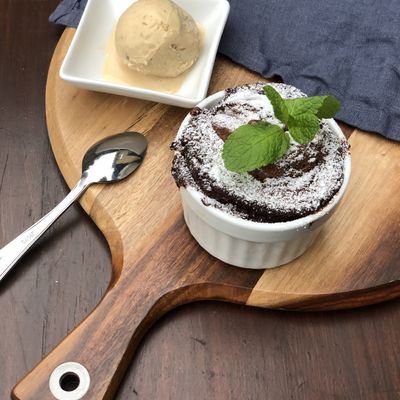 02/21/2020
The weekend is here and you don't know what to bake for you, your friends or family? Try this recipe for chocolate bread pudding! Originally British dessert represents an original form of pudding than we know in our country. The consistency is a little stiffer, like a bun. Our chef has prepared a simple recipe for you to bake this dessert.
INGREDIENTS
300g sugar
500ml cream
250g dark chocolate (>70%)
125g butter
a small shot of quality rum
1 small shot of Kahlua coffee liqueur
1 small cup of brewed coffee (30ml)
toast bread

METHOD
Heat sugar, cream, chocolate, butter, rum, liqueur and coffee in a water bath to 60 degrees. In another bowl, whisk 5 eggs into which we then pour the prepared hot mixture. We will whisk everything and make a pudding.
Cut the crust from slices of toast bread and cut it in a cross to form 4 regular triangles. Prepare a baking dish in which we gradually put a layer of toast bread, pour it over a portion of the mixture and then squeeze the toast with a fork to soak the pudding.
Toast bread reacts like a sponge. When the mixture is sufficiently connected to the bread, add another layer of toast triangles and mixture and repeat the process until the bowl is full.
Preheat the oven to 150 degrees.
Place the bowl in a baking pan with a little water and bake for 20 minutes, then remove the lid and bake again for 10 minutes until a crust is made.
After removing from the oven, create a hole in the middle of the warm pudding
and pour the cream into it. The pudding soaks up and cools down a bit. Serve hot, or later we can heat in a microwave.

Whether you try the recipe, feel free to be in touch with us and show us photos! You can find us on social media Instagram (https://www.instagram.com/burgerbar/)
and on Facebook (https://www.facebook.com/BB.Burger.Bar/).

Bon apetit!