Onion
rings recipe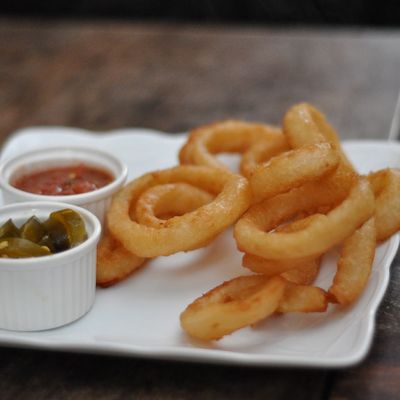 03/07/2020
Do you know what to bite for a movie in the evening and do not enjoy the crisps any more? Let´s try onion rings! Easy and simple recipe, according to which we prepare onion rings in our restaurant you can serve alone, or even for example to a burger.
INGREDIENTS
1 large onion, jalapeno spice, 5 teaspoons of beer, 100g self-raising flour

METHOD
1) To obtain a mixture of jalapeno spices let mix in the same ratio (about half a teaspoon of each kind): hot pepper, cayenne pepper, dried onion, dried garlic, cayenne cumin, oregano, thyme and salt.
2) Cut the onion into thick slices and wrap it in the prepared mixture.
3) In another bowl mix beer, flour and a pinch of salt to form a batter, wrap the prepared onion again, put in hot oil and fry until golden brown.

Whether you try the recipe, feel free to be in touch with us and show us photos! You can find us on social media Instagram (https://www.instagram.com/burgerbar/) and on Facebook (https://www.facebook.com/BB.Burger.Bar/).

Bon apetit!