Pasta
Carbonara recipe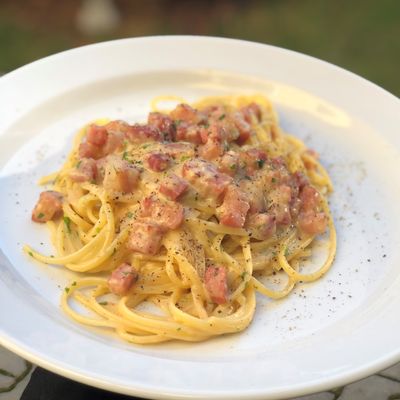 02/28/2020
We have heard that pasta is a very popular topic these days, so we bring you a recipe for Carbonara pasta. It is an Italian way of preparing pasta, widespread mainly around Rome and is most often cooked from spaghetti.
INGREDIENTS FOR 2 PORTIONS
200 g spaghetti
50 g parmesan
2 egg whites, 4 egg yolks
a piece of butter
1cm thick slice of bacon (ideally Pancetta)
salt pepper

METHOD
1) Cook the pasta in salted water with a little oil.
2) In the meantime, whisk 2 egg whites and 4 egg yolks in a bowl and add cheese.
3) Cut the bacon into cubes.
4) Melt the butter in the pan and fry the bacon until golden brown.

Chef's TIP!
During slicing, always leave only one ingredient on your desk. Other things may cause the knife to slip and cause injury.

5) Boil al dente pasta (to bite) and add them to the pan with bacon. Aded 2 small scoops of boiled water from the pasta. Mix it all.
6) Pour the mixture with the cheese on pasta, mix it fast and then immediately remove it from the fire and place on the plate.

Whether you try the recipe, feel free to be in touch with us and show us photos! You can find us on social media Instagram (https://www.instagram.com/burgerbar/) and on Facebook (https://www.facebook.com/BB.Burger.Bar/).

Bon apetit!