Thai
chicken wok with shrimps recipe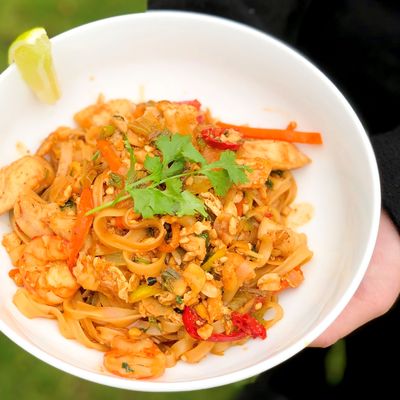 02/13/2020
Thai chicken wok is the favourite meal on our actual standard menu. Our chef showed us the recipe during the cooking show in our Dolce Villa Hotel in January. If you love the international dishes as we do, definitely try this one. The recipe is for 4 portions and the advice of our chef is to make a maximum of 2 portions in one pan.
Ingredients
Chicken or vegetable broth, or tap water
1 pack of wide (5mm) rice noodles
400g chicken breasts
400g peeled shrimps
50g peanuts
4 eggs
1/3 coriander bundle
Neutral oil (rapeseed, sunflower)
1 bundle of lemongrass
Small ginger
3 garlic cloves
20g sugar peas
Small leek
Pak choi

Ingredients for sauce
50ml lime juice
50g brown sugar
25ml fish sauce
50ml soy sauce
15g fresh hot peppers
15g Tamarind paste

Method
Approximately 2 hours in advance, prepare the noodles, put them in lukewarm water and let them soak. Put all the sauce ingredients in a saucepan and cook for about 20 minutes. Make the sauce smooth with a strainer and let it cool.
In a dry pan fry peanuts, let them cool and crush them slightly. Heat the oil in the same pan and add the sliced chicken breast. After a while, add the peeled shrimp and continue to broil
2 minutes, add all the vegetables, fry briefly and then roll everything to one side of the pan. On the other side of the pan add egg and after the eggwhite has solid consistency, stir the yolk up. Immediately put the noodles and 1-2 scoops of cooked sauce. The noodles begin to soften, sweep (or stir) the mixture up several times, remove the pan from the fire, add sliced coriander and roasted nuts.

Whether you try the recipe, feel free to be in touch with us and show us photos! You can find us on social media Instagram (https://www.instagram.com/burgerbar/)
and on Facebook (https://www.facebook.com/BB.Burger.Bar/).

Bon apetit!